Meet Dr. Tincher
Doing great work is satisfying, and for Dr. Monika Tincher, it doesn't get any better than providing high quality dental treatment that restores a smile and improves a person's quality of life. Being able to meet new patients and form long-lasting relationships with them and their families is an added bonus.
She and her husband, Dr. Laniel Razdolsky, became partners of Lake Forest Dental Associates in 2015. They are proud to be part of a practice that prides itself on offering the highest standard of care to patients.
Lake Forest Dental Associates is your experienced Lake Forest, IL dental office. Call our office today to schedule your first appointment!
Education and Continuing Education
Dr. Tincher earned her Bachelor's degree in chemistry and biochemistry from the University of Wisconsin-Madison. From there, she was accepted into the University of California at Los Angeles School of Dentistry, where she earned her Doctor of Dental Surgery degree with honors.
In addition to her love of improving smiles, Dr. Tincher is passionate about education. This lifelong learner has completed a great deal of continuing education hours in various aspects of dentistry since graduating dental school to help her become a well-rounded practitioner. She also is working toward fellowship with the Academy of General Dentistry.
Dr. Tincher is a California native who was born in Bakersfield and grew up in Thousand Oaks. She is the oldest of five children, and is proud to follow in the professional footsteps of her mother, Dr. Linda M. Tincher, a dentist in California.
She has many great mentors, including her mother, who gives her great ideas, and her father-in-law— orthodontist Dr. Yan Razdolsky—who helps her strive to become the best.
Dr. Tincher's professional memberships include:
Outside the Office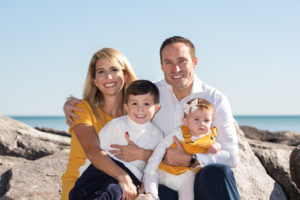 Dr. Tincher and Dr. Laniel Razdolsky married in 2014 and have two children, Caleb and Avery. When she isn't at the office, Dr. Tincher enjoys playing with Caleb and Avery, working out, watching movies, going to dinner, riding bikes, shopping, traveling, and reading books. Her favorite books are the "Harry Potter" series. Fun fact: she loves all things orange!