Dental Bridges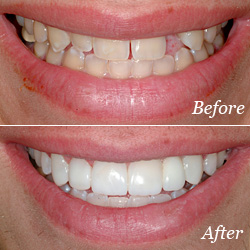 Dr. Tincher and Dr. Razdolsky have provided dental bridges to patients in Lake Forest, IL since the beginning of opening Lake Forest Dental Associates. These years of experience result in bridges that are highly aesthetic, functional, and long lasting—some of the most important aspects of dental restorations. Whether you need to replace a single missing tooth or a span of multiple missing teeth, bridges from Drs. Tincher and Razdolsky can restore your health and your confidence.
Is a bridge right for you?
There are many benefits to getting a bridge. In addition to replacing your missing tooth, it is also less expensive than a dental implant and is fixed in place.
The ideal candidate for a bridge would have:
A healthy tooth in front and behind the missing tooth site
Not enough bone for an implant
No desire for a dental implant due to cost or recovery time
Crowns or large restorations on teeth adjacent to missing tooth site
Getting a Bridge
The procedure for receiving a bridge can take anywhere from two to four hours and requires two appointments at our Lake Forest dental office: one to fit the framework and one to place the final restoration.
We are fortunate that our local lab technician is considered one of the best in the country! He uses the highest quality of materials to ensure that your bridge the perfect fit, size, and color to match the rest of your natural teeth. We do everything we can to make sure you are happy with your final restoration.
If you are missing a tooth and would like to restore your smile's original strength and beauty, schedule an appointment at our Lake Forest dental office. Drs. Tincher and Razdolsky can present all your treatment options and help you choose the one that's right for you.